About Us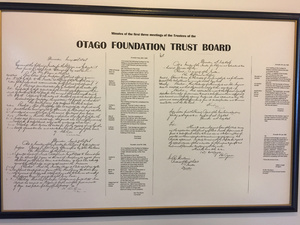 Southern Presbyterians is the 69 Presbyterian Churches and Co-Operating Ventures in the Otago and Southland region & their regional bodies.
To see where our churches are located and get a glimpse of what they are about, click here.
Within Southern Presbyterians, there a number of staff who work to resource our churches. To meet our staff, and their roles click here.
The Background To Southern Presbyterians
Southern Presbyterians is made up of our two regional bodies, The Synod of Otago and Southland and Southern Presbytery. There is also the Otago Foundation Trust Board
The following contains a summary of the intent of the Synod of Otago and Southland, Southern Presbytery and the Otago Foundation Trust Board which administer the invested funds on the Synod's behalf.
SOUTHERN PRESBYTERY
Mission and Vision
Vision Statement:
· 'Vibrant communities of faith in the South'
Mission Statement:
· 'Supporting and enabling communities of faith in their worship, pastoral life and mission'
Southern Presbytery Clarity in Mission Statement:
We believe the following considerations are critical to enable congregations to develop new mission imaginations for today's world, and to build dynamic, enduring communities of faith that are equipped to share the Good News:
1. Complete our own analysis of where things are heading in our presbytery and use this analysis as a basis for prayer, reflection and discernment.
2. Invest in and support our leaders.
3. Prioritise ministry to children and young people.
4. Invest in the future by not spending any more money on buildings that are not meaningfully contributing to the present and future mission of our Church.
5. Address the difficult issues around decline and stewardship – with a focus on shifting resources to support mission and new forms of being the church.
6. Not to amalgamate declining congregations.
7. Invest in growing congregations that are experiencing renewal through mission, regardless of their size.
8. Invest in the buy-in and implementation of a mission-focused strategy that will build strong, enduring communities of faith.
9. Use growing and well-resourced congregations as vehicles for new church plants and absorption of small declining congregations.
10. Commit to intentional outcomes focused on local and global mission.

For Southern Presbyteries' handbook and standing orders, click here.
To read more about the history of the Southern Presbytery, click here.
SYNOD OF OTAGO & SOUTHLAND
Our mission statement:
To make Jesus Christ known through the five faces of mission.

To be a leader in mission, through developing strategies and offering resources relevant for contemporary society, both regionally and nationally.
To enhance the vision of our Scottish founders, to the benefit of the community as well as the Christian faith.
To hold to our values dearly and to our structures lightly, thus to focus on Christ's life and teaching rather than evolved Church structures and practices.
By pursuing these goals, we hope to create key values of humility, honesty, hospitality and graciousness.
To read a brief history of the Presbyterian Synod of Otago & Southland, click here.
To view the Synod of Otago and Southland's convictions and guiding principles click here.
Otago Foundation Trust Board
Our objectives:
To administer the various funds referred to in the Otago Foundation Trust Board Act 1992 upon, for, and subject to the trusts and purposes under and for which they were established.
To acquire and hold in its name land and buildings upon trust for any congregation or Deacons' Court for the purpose or other benefit of a church or manse or church hall, or glebe, and to administer the trusts under which such land and buildings are held.
To carry out its purpose and functions within the context of a widely religious or educational sense and taking due account of present and future developments in presbyterian education, worship, theology, mission and secular education, within the provincial district of Otago. We hope to go beyond that and beyond the literal bounds of the presbyterian religion if the object served is a charitable purpose within the meaning of the Charitable Trusts Act 1957.
The net income of the Otago Foundation Trust Board is given annually to the Synod of Otago and Southland, to be distributed as grants.