Connect Conference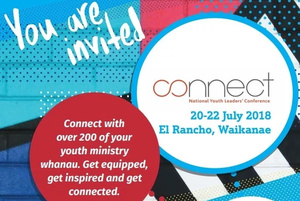 Connect is the annual gathering of youth ministry leaders in the Presbyterian Church from across the country. It is a fantastic weekend where you can expect to develop skills and competency for youth ministry as well as come away encouraged and inspired. There are inspiring keynotes, creative worship, insightful workshops, spiritual direction, regional hangouts and great kai! It's in Wellington so travel is involved but there are some travel subsidies available to folk in the Southern Presbytery.
Please visit the PYM website or speak to Brad Kelderman for more information.
For more information, click here.