Dunedin: Zero Waste Programme for Churches Workshop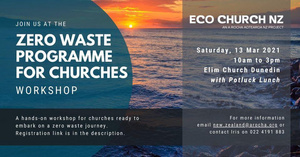 A Rocha Aotearoa New Zealand in partnership with Para Kore is delighted to bring to Dunedin the Zero Waste Programme for Churches workshop. This is a hands-on workshop for churches ready to embark on a zero-waste journey.
We look forward to welcoming you and your church to the workshop on:
Saturday, 13 March 2021
Elim Church Dunedin
10am - 3pm
with Potluck Lunch
For more information click here
A note from Selwyn
"The Zero Waste for Churches workshop is part of the A Rocha Eco-church project and will be held on March 13th, based at Elim Church in Harrow St Dunedin. Dunedin is having a fraught discussion about the need for a new city landfill so this has immediate and very practical implications for us. This will be informative, enabling, and even inspirational for everybody. I participated in the introductory session late last year and came away very excited about how this initiative enables a whole new level of care for the Earth and participation in its renewal. You don't have to climb any hills or dig any holes either! It's another initiative of hope! It would be great to see you on March 13th. Nga mihi Selwyn "