Presbytery Gathering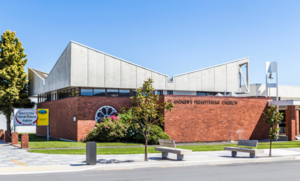 Presbytery Gathering
Saturday May 20th
10am - 3:30pm
Balclutha Presbyterian (72-74 Clyde Street)
ATTENDANCE
People from all our churches and ministries are welcome to attend, but only those with Presbytery membership are voting members for Presbytery decisions.
Our Business will be set in the midst of prayer and worship.
In this is meeting we will:
consider our budget for the next 12 months
make nominations for the Assembly Moderator (2025-27)
consider the report of the Presbytery Review Group
a paper about developing strategic directions for our life will be presented
Presbytery Council will welcome feedback on their work
Annual reports presented by three workgroups
proposals to the Assembly discussed.
Standing Orders are included in the Presbytery handbook.
TIMES & LUNCH
We start with a cuppa at 10am and plan to finish around 3.30pm.
This year the Presbytery is covering the cost for lunch catering, but please register your attendance so we have the numbers. Gluten free options will be made available.
Your local church should cover the travel costs for their Presbytery members.
.Attendance can be noted (or apologies recorded) in this google form

REGISTRATION
To register, click HERE