Waiatanui (Big Sing) Event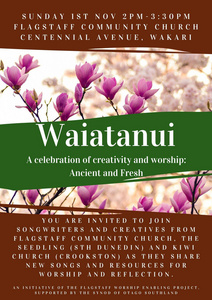 Flagstaff Community Church is hosting an afternoon of congregational worship to share new songs by local writers. Gathering creative folk from The Seedling (South Dunedin), Kiwi Church (Crookston) along with the songwriting group from Flagstaff, the afternoon promises to be varied and rich. New compositions based on St Francis' famous prayer, 'Make me a channel of your peace' and the magisterial prologue to John's Gospel will feature alongside ancient hymns of the faith. Instruments and activities will be available for children.
All welcome.
Time: 2pm-3:30pm
Where: Flagstaff Community Church, Centennial Ave, Wakari.
One of the new songs can be heard/shared here: