Courageous Continuum still going strong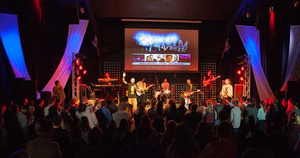 When you only have five registration forms to fund a 30-thousand-dollar event, your heart might sink a bit.
A sticky situation Tasha Francis found herself in five weeks out from the launching of Continuum Conference, back in 2014.
Tasha, Youth Leader at Windsor Community Church Invercargill, felt led to create a Christian conference for youth after Getsmart moved to Wellington, in 2013.
"Not many parents can spend $300 to send their kids to a Christian conference in Wellington. Otago and Southland really needed something," she said.
"Initially, I didn't want to do it, because my plate was so full, but conviction grew and I had to do something!"
Tasha and her husband, David Francis, then began the process of establishing the conference.
"It takes a lot of money to create an event like this! We needed speakers, worship leaders, equipment, a stage and a venue. It was going to cost 30-thousand-dollars," she said.
"We decided to step out in faith and purchase everything. Our hope was that people would come and pay for their registration. Then we could use that money to pay for it."
Five weeks out from the event they only held seven forms, two of which were their own.
"David's mum called us and said, 'are you still going to do it?'." With confidence, they said, "yes!"
In the end, a breath-taking 450 people came, with many Presbyterian church youth groups making an appearance.
Along with pitch-perfect music, biblical teaching touched many people.
Andrew Scott, Pastor at Brockville Church said, "I took five non-Christian youth to Continuum Conference, I went home with five Christian youth."
Their success saw four more conferences follow, with a fifth happening this July.
"This year, we have Glen Gerreyn – he's in the 1% of top speakers in the world. I had to move the entire conference's dates so he could make it!"
Tasha encourages all youth to come, saying, "You will grow in God, and you'll love the music! Especially, with C3 Music bands coming!"
"If youth would like to come they can find more information on our Facebook page called, 'Continuum Conference'."
Continuum 2018 will be from July 13 to 15 in Invercargill.
For more information about Continuum 2018 and to register, please click here.