Season of Peace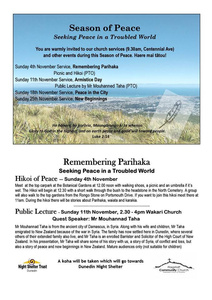 Remembering Parihaka
Seeking Peace in a Troubled World
You are warmly invited to gather to affirm our commitment to seeking peace in a troubled world during this Season of Peace.
Haere mai tātou!
Hikoi of Peace
Sunday 4th November
Meet at the top carpark at the Botanical Gardens at 12.00 noon with walking shoes, a picnic, and an umbrella if it's wet. The Hikoi will begin at 12.30 with a short walk through the bush to the headstone in the North Cemetery. A group will also walk to the top gardens from the Rongo Stone on Portsmouth Drive. If you want to join this hikoi meet there at 11am. During the hikoi there will be stories about Parihaka, waiata and karakia.
Public Lecture
Sunday 11th November
2:30pm - 4pm at Flagstaff Community Church
Guest Speaker: Mr Mouhannad Taha
Mr Mouhannad Taha is from the ancient city of Damascus, in Syria. Along with his wife and children, Mr Taha emigrated to New Zealand because of the war in Syria. The family has now settled here in Dunedin, where several others of their extended family also live, and Mr Taha is an enrolled Barrister and Solicitor of the High Court of New Zealand. In his presentation, Mr Taha will share some of his story with us, a story of Syria, of conflict and loss, but also a story of peace and new beginnings in New Zealand. Mature audiences only (not suitable for children).
A koha will be taken which will go towards Dunedin Night Shelter
For more information, please contact Rev Brendon McRae for more information.