Vacancy - Chaplain, Maclaurin Chapel, Waipapa Taumata Rau University of Auckland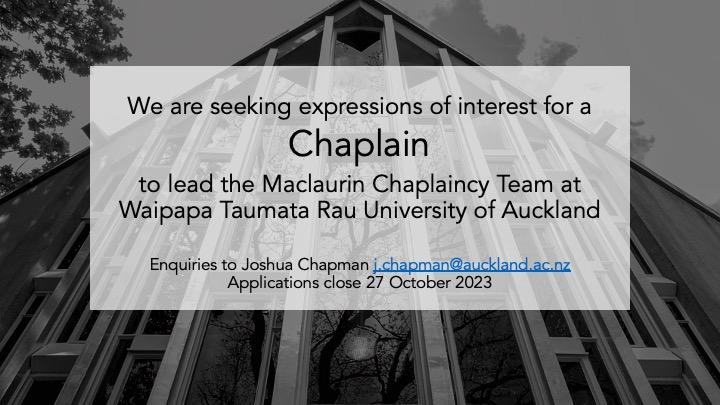 Expressions of Interest – Maclaurin Ecumenical Chaplain
The Richard Maclaurin Goodfellow Foundation Board of Management (the Board) is seeking to appoint a new Chaplain to lead the Ecumenical Chaplaincy team based at the Maclaurin Chapel within The University of Auckland CBD campus.
About Us
The MacLaurin Ecumenical Chaplaincy exists to enrich the life of Waipapa Taumata Rau, the University of Auckland and its community. It serves the whole University community, working with others for the common good of society, integrity of creation and justice for all.
Our values are grounded in the Gospel of Jesus Christ and expressed in this unique setting:
Thoughtful faith (fostering Christian academic thought and leadership)
Integrated life (encouraging holistic spirituality and citizenship)
People-centred (acting justly, loving mercy, acknowledging faith and diversity in makeup)
Communal richness (building inter-faith connection and fostering diversity)
Hospitable space (providing a place to rest, learn, pray and worship)
The Position
The Maclaurin Chaplain leads the chaplaincy team and especially represents and fosters the spirituality and tradition of the Christian faith while acknowledging and affirming other faith traditions, seeking to build connections, mutual understanding, and inclusive hospitality. Given the University's ethnic diversity and religious plurality, the Chaplaincy works with other faith groups and leaders to offer spiritual care for all students and staff. Within the context of a secular university, the chaplaincy encourages the pursuit of learning and wisdom, scholarly inquiry, and openness to difference. Some other key responsibilities include:
Representing faith and fostering Christian thought in the academic and public sphere.
Offering robust pastoral care within the Waipapa Taumata Rau, University of Auckland, that knowledges the complexities and strengths of personal faith.
Building friendship and understanding amongst religious faith groups in the University of Auckland, and with the non-religious.
• Ensuring the Chapel and Hall are welcoming, worshipful and hospitable meeting spaces, together with The University.
Leading and developing the Ecumenical Chaplaincy team, comprising up to seven paid and volunteer chaplains.
Knowledge/Skills/Experience Required for this Position
Understand Te Tiriti o Waitangi (the Treaty of Waitangi) as the basis for citizenship in Aotearoa-New Zealand.
Ordained Minister of good standing with her/his denomination, with post-graduate (ideally doctorate level) theological qualifications, as well as sufficient pastoral training (CPE or similar) experience from which to draw in exercising their role within the University community.
Team leadership skills in addition to high level stakeholder and presentation skills.
This is a full-time, paid contract position reporting to the Board. We also offer usual benefits including accommodation and other applicable allowances according to the denomination of the successful applicant.

Please send any expressions of interest or enquires to Joshua Chapman – j.chapman@auckland.ac.nz
Applications close Friday 27th of October 2023. This date may be extended as required.